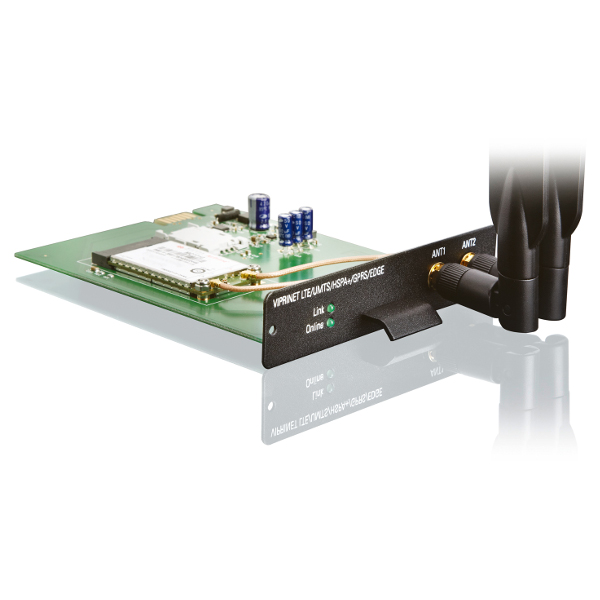 Caractéristiques
Air Interface


LTE / HSPA+


 Transfer Rate
Download: 100 Mbps (LTE), 21.1 Mbps (UMTS/HSPA+)
Upload: 50 Mbps (LTE), 5.76 Mbps (UMTS/HSPA+
Frequency Bands
800/900/1800/2100/2600 MHz
UMTS (WCDMA/FDD) / HSPA+: 900/2100 MHz
GSM/GPRS/EDGE: 900/1800/1900 Mhz
Description
The LTE/UMTS/HSPA+/GPRS/EDGE Module allows using all current mobile phone technologies with every stationary Viprinet Multichannel VPN Router. LTE is the newest mobile phone standard available worldwide also called 4G. It allows higher bandwidths and higher ranges at the same time and forms the current state of the art regarding mobile phone services. Thus, it provides long-term feasibility. Especially in mobile usage, the LTE/UMTS/HSPA+/GPRS/EDGE module ensures undisruptive mobile phone connections due to the additional support for the mobile phone standards UMTS and GSM. The transition between different mobile phone standards is carried out seemlessly, and at all times, the best available connection is used.
Included with the LTE/UMTS/HSPA+/GPRS/EDGE module come two high-quality knuckle-mount antennas. Due to two SMA jacks on each module, connecting an external MIMO antenna to the module is possible. Thus, good mobile phone connections can be realized even under the most difficult reception conditions.
Hint: Please note that LTE uses different radio frequency bands depending on the country. This module supports the LTE frequency bands 800/900/1800/2100/2600 MHz common in Europe and further regions, but not the frequency band 700MHz as used in the US.
When choosing an external antenna, please make sure that it supports the LTE as well as the UMTS frequency bands used.
Connectors
2x SMA connectors (female) to connect an external MIMO antenna
Suitable For


Multichannel VPN Router 300
Multichannel VPN Router 1610
Multichannel VPN Router 2610