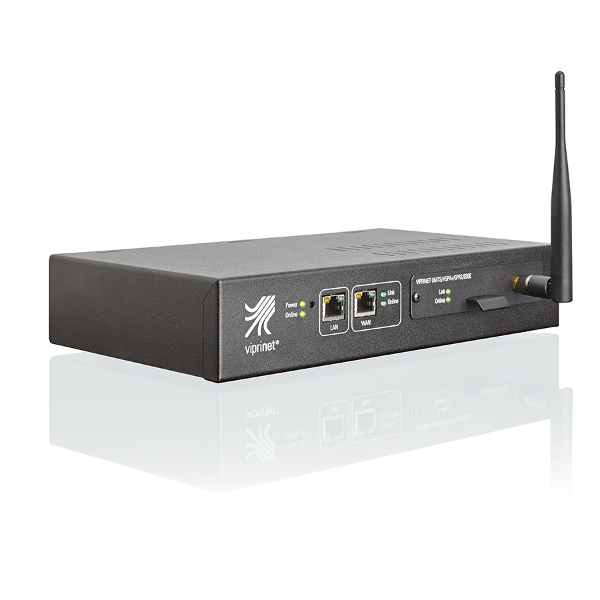 Description
Le Multichannel VPN router 200 a été spécialement conçu pour une utilisation dans les bureaux à domicile et en déplacement. Avec ce dispositif, une connexion Internet existante peut être agrégée à une autre. 
En ajoutant les capacités de flux montant inutilisées disponibles dans les réseaux de téléphonie mobile à une connexion lente DSL à 300 kbit/s de flux montant, un lien symétrique à une vitesse de plusieurs mégabits en flux montant peut être établie, par exemple, pour la visioconférence. 
Le routeur est livré avec un point d'accès Wi-fi intégré à 2,4 ou 5 GHz (Double Bande) et refroidissement passif; il est donc extrêmement économe et totalement silencieux. Grâce à son emplacement module, le modèle 200 peut être facilement mis à niveau à chaud vers les futures technologies via son module.
Caractéristiques
Real bonding of all connection bandwidths with / without TCP optimizing
Quality of Service / traffic shaping (per WAN module / VPN tunnel)
NAT and port forwarding
Monitoring (graphical and remote-syslog)
Rule-based routing
Traffic accounting via external server
Multi-user web administration system
Technical Specifications
Enclosure format: Desktop
Dimensions (WxHxD): 273 x 53 x 160 mm
Weight (ca.): 1 kg
Power rating: 12 VDC, 4 A max
Power supply: External AC/DC adapter 100-240 VAC, 50-60Hz
Working temperature: 0-40° C
Fans Number / Regulation / Control: 0 / – / –
LAN Interface: Gbit Ethernet
WAN module slots: 1 and 1x Gbit Ethernet
Maximum power consumption: 24 Watt
Typical power consumption: 10 Watt
SNMP Basic / Extended: included / optional
Bonding capacity MBit/s: 35


Accessoires
Modules de branchement à chaud
ADSL 2+ Annex A
ADSL 2+ Annex B
UMTS / HSPA+ / GPRS / EDGE
LTE / DC-HSPA+ / EDGE/GPS
LTE / UMTS / HSPA+ / GPRS / EDGE
Gigabit Ethernet
CDMA 450
CDMA / EV-DO


Licences supplémentaires facultatives
Extended SNMP monitoring
Streaming optimization
Node Stacking .